Utkal Students Demand Security | Bhubaneswar News – Times of India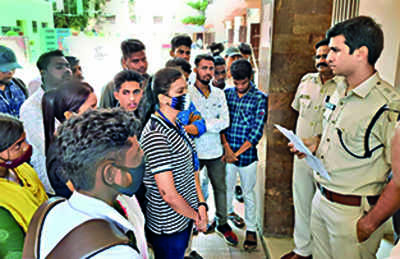 Bhubaneswar: A group of students of Utkal Universitymet Bhubaneswar DCP Prateek Singh on Monday demanding arrest of the miscreants who pointed swords at some of them on the campus on Friday and proper security.
The students discussed in detail about Friday's incident. "There was an altercation between two students in the university. The junior student took the help of an outsider to threaten the senior student. On Friday, some outsiders with sharp weapons entered the campus and terrorised the students. We demand stringent action against the miscreants," said a girl student.
She said the miscreants still roam around the campus with iron rods and knives. "We do not feel safe inside the campus. They also pass lewd comments on girls. If such type of hooliganism occurs on a premier university campus located in the heart of the city, I do not know what to say," she added.
They also urged the university authorities to take necessary steps to stop the entry of antisocial elements and outsiders on the campus. Another student, Sipul Swain, said the university should take this incident seriously and ensure security of students staying on the campus. "The police should arrest the culprits involved in Friday's incident and maintain peace on the campus," he added.
DCP Singh said police has been deployed on the campus after the incident. "If the students do not have phone numbers of the local police station, they can dial 112 and inform us about their problems. We will immediately reach the campus and help the students. We have arrested one person for Friday's incident and are searching for others," he added.
Sources said the university will close the narrow gate from VSS Nagar side. Earlier, it had put up walls on the entry gate on theVSS Nagar end. The university authorities will review the situation and take necessary actions to protect its students, they said. Recently, higher education minister Rohit Pujari had told the media that the government is taking measures to keep all educational campuses free from violence.
FOLLOW US ON SOCIAL MEDIA
FacebookTwitterInstagramKOO APPYOUTUBE