JD(U) attacks BJP, saffron neta dares it to quit NDA | India News – Net4News
PATNA: Fault lines in the relationship between Nitish Kumar's JD(U) and principal ally
BJP
appeared to widen on Sunday after both sides had had a go at each other over what constitutes "good governance", culminating in minister Niraj Kumar Singh Babloo of the saffron party daring "those wanting to quit NDA on some pretext" to go ahead with it.
The first salvo in the latest war of words had been fired by state BJP president Sanjay Kumar Jaiswal on Saturday when he questioned Nitish's performance as CM, saying his much-hyped governance model wasn't in evidence as violent anti-Agnipath protests raged in Bihar.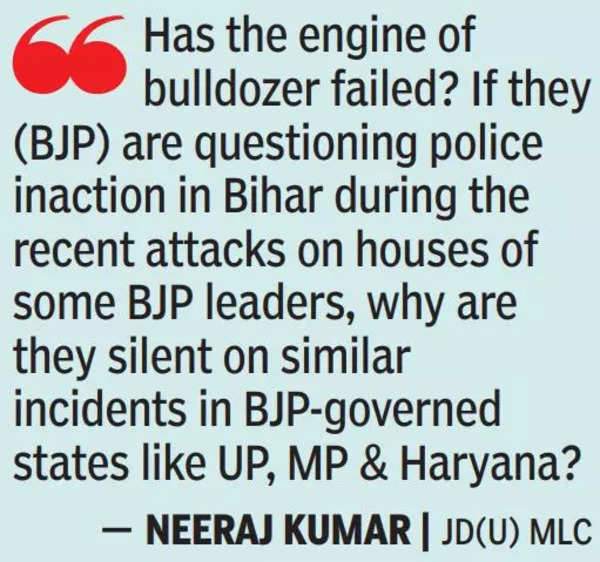 In a sharp retort the next day, JD(U) spokesperson and MLC Neeraj Kumar wondered why the Yogi Adiyanath-led BJP government in UP didn't run bulldozers over youth protesting against the Agnipath recruitment scheme after they set a police station in Aligarh ablaze.
The JD(U) functionary said it was primarily the responsibility of the Railway Protection Force (RPF), a central force, to protect railway properties that had been destroyed and pillaged in the name of protests. "Why are BJP functionaries not raising questions about the RPF's failure? What are its responsibilities?"
On the Centre's decision to provide Y-category security to 10 BJP politicians in Bihar, JD(U) said ensuring a secure future for students should have been more important in governance than "arranging security for saffron party functionaries".
"The youth and students protesting against the Agnipath scheme are the future of this country. Necessary steps should be taken to allay their apprehensions about the scheme…This is the responsibility of all political parties."
Referring to the JD(U) spokesperson's outburst, minister Babloo suggested BJP wouldn't go out of its way to save the coalition government, if it came to that. "No one is stopping them to remain in the alliance by touching their feet," he said.
Babloo said his BJP colleague Jaiswal was justified in questioning "police inaction" after protesters specifically targeted MLAs, senior functionaries and offices of the party during the anti-Agnipath protests since Wednesday.
Signs of strain in the JD(U)-BJP relationship came to the fore on June 6 when CM Nitish declared population growth couldn't be controlled just by bringing in legislation. This was in response to Union minister Prahlad Singh Patel of BJP announcing in Chhattisgarh that the Centre would soon introduce a law to make adherence to family planning norms mandatory.
In yet another instance of his views on critical topics being at variance with that of BJP, Nitish said two days later that Bihar doesn't need an anti-conversion law as the state government remains "fully alert to sensitive issues" and people of all faiths live in harmony.
Nitish denying Union steel minister RCP Singh, who is JD(U)'s lone face in the Narendra Modi cabinet, a return ticket to the Rajya Sabha is also being seen as a possible sign of the party looking for a reboot within NDA. RCP, whose current RS term ends on July 7, has left it to PM Modi to decide his political fate.