Gurugram: Metro extension project to Cyber City may not start rolling before 2-3 months | Gurgaon News – Times of India
GURUGRAM: Work on the proposed metro route between Huda City Centre and Cyber City is unlikely to start before "two or three months" as the Centre is expected to take this much time to give its approval.
Officials said they had in November last year sent a revised version of the detailed project report (DPR) to the Union ministry of urban and housing affairs for approval. Earlier this month, the Haryana Mass Rapid Transport Corporation (HMRTC) had handed over 20 copies of the DPR, comprehensive mobility plan (CMP) and alternate analysis report (AAR) to the Centre. The reports will be circulated among various ministries for consideration and then sent to the Public Investment Board (PIB) for approval.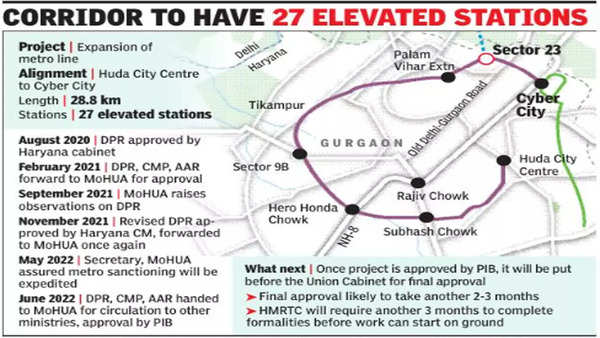 "Once the project is approved by the PIB, the proposal will be placed before the Union cabinet for the final nod. However, this process may take two to three months," said a senior HMRTC official.
In a meeting in Delhi last month, a secretary in the Union ministry had apparently assured the state chief secretary and HMRTC officials that the process to sanction the metro project would be expedited
At present, Gurugram has only two metro lines operating in the city – a 7km portion of the Yellow Line and an 11.6km Rapid Metro corridor. While the former provides connectivity between Gurugram and Delhi, the latter eases the commute between Cyber City and Golf Course Road.
The plan to extend the metro facility to Cyber City has been under consideration for several years, during which officials have deliberated upon various routes. It was in 2019, however, that a decision was taken to build the 28.8km-long corridor. The route is supposed to have a total of 27 elevated stations between Huda City Centre and Cyber City, including a spur to the Dwarka Expressway.
The route will run through Sector 45, Cyber Park, Sector 47, Subhash Chowk, Sector 48, Sector 72A, Hero Honda Chowk, Udyog Vihar 6, Sector 10, Sector 37, Basai village, Sectors 9, 7, 4, and 5, Ashok Vihar, Sector 3, Bajghera Road, Palam Vihar Extension, Palam Vihar, Sector 23A, Sector 22, Udyog Vihar 4 and Udyog Vihar 5.
It was in August 2020 that the state cabinet had approved the metro project. The DPR and other documents were sent to the Centre, but the Institute of Urban Transport (IUT) has sought some clarifications.
A revised DPR, incorporating the changes sought, was prepared and approved by the chief minister in November last year and sent to the Centre again. The approval to that is awaited.