Blow to MVA: Can't disqualify rebel MLAs till July 12, says Supreme Court | Mumbai News – Times of India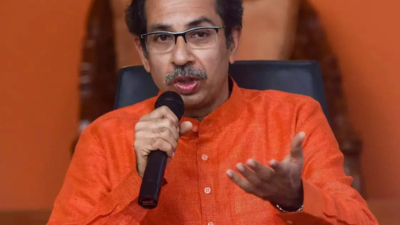 NEW DELHI: In a serious setback to the Uddhav Thackeray-led MVA government, the Supreme Court on Monday protected rebel Sena MLAs from disqualification proceedings till July 12, directed the ruling coalition to ensure their safety in Maharashtra and importantly, refused the Sena-NCP-Congress coalition's request to stop the Eknathrao S Shinde-led rebels from demanding a floor test in assembly.
Shinde tweeted on the SC order, "This is the victory of Balasaheb Thackeray and Anand Dighe's thoughts."
A string of senior advocates-A M Singhvi, Rajeev Dhavan and Devadatt Kamat- made strenuous attempts on behalf of MVA and deputy speaker to persuade a vacation bench of Justices Surya Kant and J B Pardiwala not to interfere in disqualification proceedings against 15 of 39 rebel Sena MLAs supporting Shinde, saying it fell in the exclusive domain of the Speaker.
When the effort did not work, Kamat made a desperate attempt to stop the likely effort to bring out CM Thackeray's diminished support by requesting that status quo be maintained as of today and there should be no demand from the rebels for a floor test.
No protest from MVA lawyers as SC notes there are 39 rebel MLAs
Senior advocate Devadatt Kamat on Monday beseeched the SC on MVA's behalf, saying if disqualification proceedings, which were to commence after end of 5.30pm Monday deadline for the 15 rebel MLAs to present themselves before deputy speaker, are being deferred, then the status quo as of today be maintained and there should be no demand from rebels for a floor test.
Rebel leader Eknath Shinde's counsel Neeraj Kishan Kaul promptly said "now the cat is out of the bag" and that the minority MVA government wants to avoid a floor test. The bench told Kamat that passing a restraint order on floor test would give rise to unnecessary complications but told him the MVA was free to move court if any illegalities were committed. As recorded by SC in its interim order, Shinde has support of 39 MLAs, which means only 16 MLAs are with Thackeray-led SS. This in turn would indicate the MVA strength is down from 152 to 113. A party or coalition must muster support of minimum 144 members today, as one seat is vacant in the assembly, to form government.
The BJP has 106 MLAs. Kaul argued that as per a constitution bench judgment of SC in Nabam Rebia case, a Speaker or deputy speaker facing motion of removal is prohibited from initiating disqualification proceedings against any MLA. He said the rebel MLAs had given notice on June 21 seeking removal of deputy speaker (Narhari Zirwal of NCP). Disqualification proceedings initiated against the rebel Sena MLAs is a counter manoeuvre, he alleged. Kaul's argument, based on Rebia judgment, found favour with the SC vacation bench headed by Justice Kant and submissions of Singhvi, Dhavan and Kamat failed to counter it. The bench asked Dhavan whether the deputy speaker would defer disqualification proceedings till notice for his removal is decided by the House.
But Dhavan insisted the rebel MLAs must present themselves before deputy speaker on Monday itself to respond to notices. This made the bench pass the interim order deferring disqualification proceedings under anti-defection law. "Meanwhile, as an interim measure, the time granted by the Deputy Speaker of the Assembly to the petitioners or other similarly placed MLAs to submit their written submissions up to today by 5.30pm, is extended till July," the bench said.
The bench recorded state's standing counsel Rahul Chitnis's statement that police have taken adequate measures to protect rebel MLAs. He undertook the state "shall further ensure no harm is caused to lives, liberty and properties of the 39 MLAs and their families". Surprisingly, it drew no protest from MVA's battery of lawyers when SC noted there are 39 rebel Sena MLAs.
The blunting of hardline approach towards rebels, as advocated by Sanjay Raut who has been issuing threats, could dampen the mood in the Thackeray faction. The SC order came after Kaul pointed out Raut's threat of "40 bodies will be brought from Guwahati," preceded by vandalism. The bench asked the assembly secretary, state chief secretary, leader of Sena legislature party Ajay Choudhari, Sena chief whip Sunil Prabhu, state DGP and Union government to file responses within five days to separate petitions filed by Shinde and 15 MLAs who have argued Shinde be designated leader of Sena group in assembly. It gave three days to petitioners to file their rejoinder affidavits and posted the matter for further hearing on July 11. This interim order granting protection is likely to encourage rebel Sena MLAs to return and strategise their moves to topple the MVA.
FOLLOW US ON SOCIAL MEDIA
FacebookTwitterInstagramKOO APPYOUTUBE